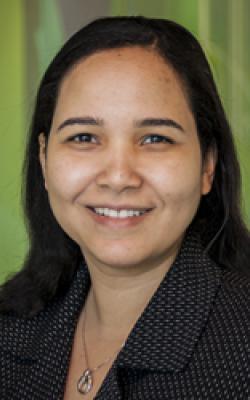 mail
Email
Rachel A Umoren, MB, ChB, MS
Associate Professor of Pediatrics Director, Neonatal Education and Simulation Training (NEST) Program Neonatal Telemedicine Lead Associate Division Head, Research Medical Director, Inpatient Telehealth Services, SCH
Associated with Fellowship(s)
Neonatal-Perinatal Fellowship
Professional Bio
Clinical Interest: Education and family support for parents with infants in the NICU
Scholarly Focus: Simulation research with the goals of safe patient care and improved clinical outcomes. Her research interests include the use of emerging technologies, including virtual and augmented reality simulations as an investigative methodology in the areas of teamwork and telemedicine for neonatal resuscitation training in local and global health settings.
Research Funding:
2019‐2023           Patient Safety Learning Laboratory to Enhance the Value and Safety of Neonatal Interfacility Transfers in a Regional Care Network. AHRQ R18 HS027259. Role: PI, Total award: $2,422,385
2017‐2020            eHBB: Virtual reality technology to improve newborn healthcare delivery in low and middle‐income countries, Bill and Melinda Gates Foundation. Role: PI, Total Award:
$1,109,135
Administration/Education Roles: Dr. Umoren is the Director of the Neonatal Education and Simulation Training (NEST) Program and Telemedicine Lead for the Neonatology group.