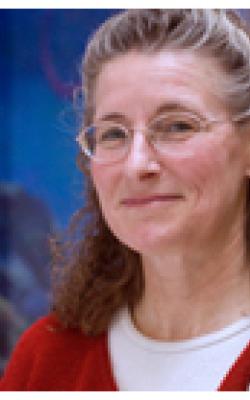 University of Washington Department of Pediatrics
Seattle Children's Hospital
4800 Sand Point Way NE, OB.9.520
Seattle, WA 98105
mail
Email
Anne V. Hing, MD
Professor
Division(s)
Craniofacial Medicine
Genetic Medicine
Associated with Fellowship(s)
Craniofacial Medicine Fellowship
Professional Bio
Anne V. Hing, MD, is attending physician at Seattle Children's Hospital, associate professor in the Department of Pediatrics at the University of Washington School of Medicine and an adjunct faculty member in the Division of Medical Genetics. Her clinical interests include the diagnosis and management of infants, children and adolescents with craniofacial and genetic conditions. She works in the Craniofacial and Craniofacial Genetics Clinic and the Limb Deficiency Clinic. She also serves as a genetics consultant in seven different outreach genetics clinics throughout the states of Washington and Alaska. She coordinates the craniofacial resident elective course and provides bedside teaching. She has served as Seattle Children's principal investigator in a multi-center international study of the genetics of cleft lip and palate for the past six years. She is collecting pilot data for a future genetic study of sagittal synostosis using novel quantitative measures of head shape.
Selected Publications
Moreno LM, Mansilla MA, Bullard SA, Cooper ME, Busch TD, Machida J, Johnson MK, Brauer D, Krahn K, Daack-Hirsch S, L'heureux J, Valencia-Ramirez C, Rivera D, Lopez AM, Moreno MA, Hing AV, Lammer EJ, Jones M, Christensen K, Lie RT, Jugessur A, Wilcox AJ, Chines P, Pugh E, Doheny K, Arcos-Burgos M, Marazita ML, Murray JC, Lidral AC. FOXE1 association with both isolated cleft lip with or without cleft palate, and isolated cleft palate. Hum Mol Genet 2009; 18(24):4879-4896.
Heike CL, Cunningham ML, Hing AV, Stuhaug E, Starr JR. Picture perfect? Reliability of craniofacial anthropometry using 3D digital stereophotogrammetry in individuals with and without 22q11.2 deletion syndrome. J Plast Reconstr Surg 2009; 124(4):315-324.
Suzuki S, Marazita ML, Cooper ME, Miwa N, Hing AV, Jugessur A, Natsume N, Shimozato K, Ohbayashi N, Suzuki Y Niimi T, Minami K, Yamamoto M, Altannamar TJ, Erkhembaatar T, Furukawa H, Daack-Hirsch S, L'Heureux J, Brandon CA, Weinberg SM, Neiswanger K, Deleyiannis FW, de Salamanca JE, Vieira AR, Lidral AC, Martin JF, Murray JC. Mutations in BMP4 are associated with subepithelial, microform, and overt cleft lip. Am J Hum Genet 2009; 84(3):406-411.
Hing AV, Click ES, Holder U, Seto ML, Vessey K, Gruss J, Hopper R, Cunningham ML. Bilateral lambdoid and sagittal synostosis (BLSS): a unique craniosynostosis syndrome or predictable craniofacial phenotype? Am J Med Genet 2009; 149A(5):1024-1032.
Tsuchiya KD, Opheim KE, Hannibal MC, Hing AV, Glass IA, Raff ML, Norwood T, Torchia BA. Unexpected structural complexity of supernumerary marker chromosomes characterized by microarray comparative genomic hybridization. Mol Cytogenet 2008; 1(1):7.
Heike CL, Perkins J, Kifle Y, Avellino A, Hing AV. Sleep disturbances in 22q11.2 deletion syndrome: a case with obstructive and central sleep apnea. Cleft Palate Craniofac J 2007; 44(3): 340-346.
Seto ML, Hing AV, Chang J, Hu M, Kapp-Simon KA, Patel PK, Burton BK, Kane A, Smyth MD, Hopper R, Ellenbogen RG, Stevenson K, Speltz ML, Cunningham ML. Isolated sagittal and coronal craniosynostosis associated with TWIST box mutations. Am J Med Genet A 2007; 143:678-686.
Hing AV, LeBlond C, Sze RW, Starr JR, Monks S, Parisi MA. A novel oculo-oto-facial dysplasia in a Native Alaskan community with autosomal recessive inheritance. Am J Med Genet 2006; 140(8):804-812.
Cunningham ML, Seto ML, Hing AV, Bull MJ, Hopkin RJ, Leppig KA. Cleidocranial dysplasia with severe parietal bone dysplasia: C-Terminal RUNX2 mutations. Birth Defects Res A Clin Mol Teratol 2006 76(2):78-85.
Hing AV, Syed N, Cunningham ML. Familial acromelic frontonasal dysostosis: autosomal dominant inheritance with reduced penetrance. Am J Med Genet A 2004; 128(4):374-382.