If you are experiencing any COVID-19 symptoms or have experienced a possible or known exposure, please follow the procedures that can be accessed at https://education.uwmedicine.org/. This link will direct you to specific instructions for COVID-19 Exposure/Symptoms/Diagnosis Procedures. If you have any questions that are not addressed by the procedures outlined through this link, please contact the office of the Associate Dean of Student Affairs at adminsa@uw.edu.
The core pediatric clerkship is designed to provide a comprehensive overview of the approach to the care of children and their families. In addition, you will explore the range of reasons children seek medical care, from well child visits to acute medical problems in both the inpatient and outpatient setting and the ongoing management of chronic illnesses. Each clerkship site is unique in the setting, faculty and patients seen.
 The information and core materials for your clerkship are detailed below in the following links and attachments:
Orientation Information
Core Materials
Forms
Policies
Please review all policies so you understand your roles and responsibilities.
Pediatric Physical Exam Videos
Additional Materials for Learning
NBME Shelf exam studying resources
Pediatric Clerkship Faculty Teaching Award
This award is given to faculty providing a substantial contribution to medical education within the Pediatric Clerkship at the University of Washington School of Medicine. Staff and faculty within the Pediatric Student Programs office review the nominations. Three regional faculty members and one UW Department of Pediatrics faculty will receive the award and be presented with a certificate for their achievement. Winners will be announced here in May 2023.
The nomination deadline for the 2022-2023 Academic Year is 4/14/23.
Students: Use this form to nominate faculty or scan the QR code below.

Reporting Mistreatment or a Serious Concern
Students who wish to report mistreatment or a serious concern that doesn't require immediate response are encouraged to use the Learning Environment Feedback Tool by clicking on the button below. In the tool, you will be able to provide a description of your concern and indicate your follow-up preference and how you would like your feedback shared. You will have the option of reporting completely anonymously and indicating how you want your identity and the identity of anyone else involved in the situation to be shared. More information about the Learning Environment can be found here: http://blogs.uw.edu/esom/learning-environment/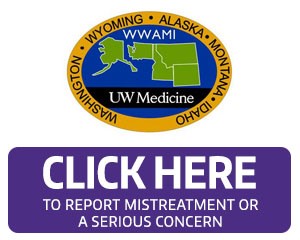 We look forward to meeting you and hope you have a good rotation. If you have questions or concerns, please don't hesitate to contact us.
Rebekah Burns, MD, Director, Pediatric Medical Student Education, University of Washington School of Medicine
Pediatric Medical Student Program: mailto:medical.students@seattlechildrens.org