The Division of Pediatric Gastroenterology and Hepatology of the University of Washington and Seattle Children's Hospital is pleased to announce that we are currently accepting applications for our ACGME accredited fellowship training program in Pediatric Transplant Hepatology for July 2022.
Situated in the beautiful Pacific Northwest, we are an academic pediatric gastroenterology group with a strong international reputation for high quality research, education and patient care. As the only academic pediatric gastroenterology group and pediatric transplant center in the region, we serve a broad geographic area with a diverse and large patient population with chronic gastrointestinal and liver diseases.
The goal of our one-year program is to train competent pediatric transplant hepatologists who will be leaders in the field. We provide the opportunity for outstanding clinical and research training to board eligible pediatric gastroenterology candidates, qualifying them to become independent hepatology consultants and meeting eligibility criteria to take the American Board of Pediatrics Transplant Hepatology Certificate of Added Qualification Examination.
Our team is comprised of 3 pediatric transplant hepatologists, 4 pediatric transplant surgeons, 2 pediatric nurse practitioners, 4 pediatric transplant nurse coordinators, and a large collaborative team that includes administrative leaders, transplant pharmacists, transplant dietitians, transplant social work transplant infectious diseases, critical care, neurocritical care, interventional radiology, scheduling coordinators, compliance specialists and data analysts. To learn more about our transplant team visit us at Seattle Children's Hospital Transplant Team.
In addition to clinical specialty programs in hepatology, liver transplantation (deceased and living donation) and one of the few intestinal rehabilitation and transplantation programs in the country, we also have programs in inflammatory bowel disease, motility disorders, and therapeutic endoscopy, among others. Seattle Children's, the University of Washington and Fred Hutchinson Cancer Research Center combine to lead the nation in National Institutes of Health research funding, making Seattle's research opportunities among the best in the world.
We believe that the diversity of our fellows, residents, medical students, staff and faculty is a fundamental element of our ability to ensure that all our patients and families receive the highest-quality care – no matter their race, ethnicity, language, literacy, age, gender, gender identity, sexual orientation, religion, disability or finances. Our objective is to create a community that encourages participation and connection, and that values and includes each individual's unique contribution, in every aspect of our mission and practice.
Gastroenterology and Hepatology Faculty Research
The Gastroenterology and Hepatology faculty are locally and nationally recognized for their research, which focuses on the pathogenesis and treatment of pediatric gastrointestinal and hepatic diseases. Our research program has had consistent NIH/NIDDK and corporate funding for over 15 years, and continues to grow in breadth and funding. Within our division, the main areas of focus include:
The pathogenesis, progression, and treatment of pediatric genetic cholestatic liver diseases including biliary atresia, progressive familial intrahepatic cholestasis, alpha-1-anti trypsin deficiency, and bile acid deficiency
The epidemiology, pathogenesis, and treatment of acute liver failure
The epidemiology, pathogenesis, and treatment of chronic viral hepatitis B and C
The pathogenesis and treatment of non-alcoholic steatohepatitis
The pathogenesis and treatment of intestinal failure
Outcome disparities in waitlisted and post-liver transplantation
Effects of liver allocation policy changes upon waitlist and post-transplant outcomes
Indicators of medical frailty among patients listed for liver transplant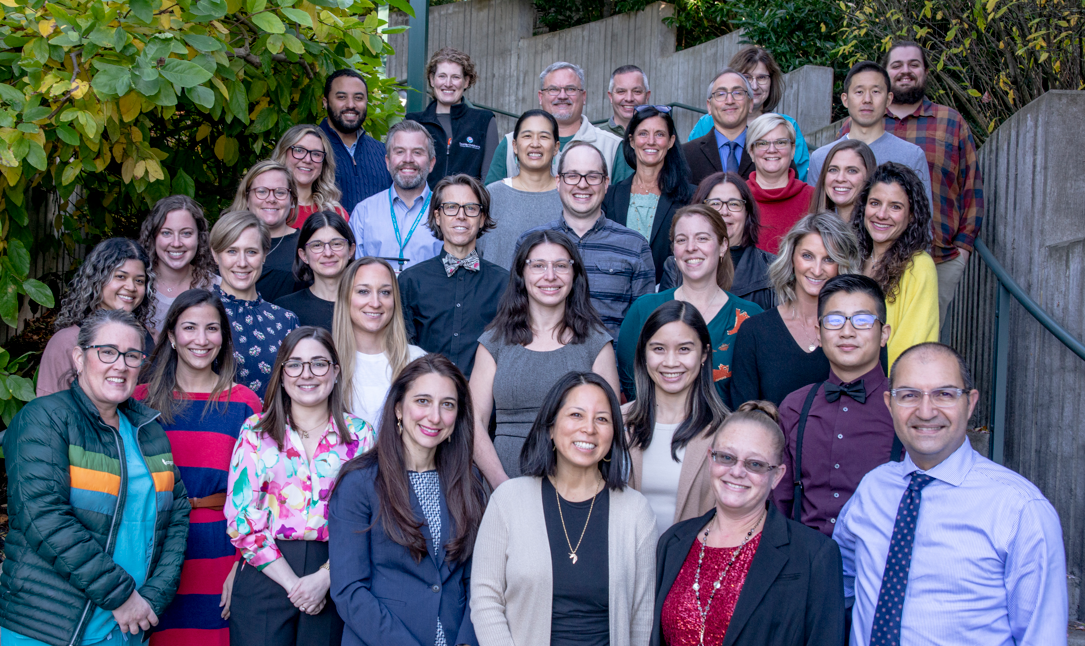 Pediatric Advanced/Transplant Hepatology Fellowship
Clinical
Seattle Children's Hospital performs between 15 and 20 pediatric liver transplants per year and actively follows over 100 post-transplant patients. We work closely with our partners at University of Washington Medical Center, a very busy adult liver transplantation program.  During this year of training, the Pediatric Advanced/Transplant Hepatology fellow will gain clinical mastery in a wide range of general acute and chronic liver diseases, inclusive of but not limited to: management of portal hypertension, evaluation, selection and procurement for deceased donor liver transplantation, management of infectious hepatitis, biliary diseases, vascular malformations of the liver, liver tumors, neonatal cholestasis, and long-term post-liver transplantation care for both adults and pediatrics patients. Fellows will interact closely with other trainees and faculty from other subspecialty divisions within Pediatrics, including critical care medicine, interventional radiology, pathology, metabolic genetics, transplant surgery. They will develop diagnostic and therapeutic expertise in areas of hepatology and nutritional disorders and develop proficiency in percutaneous liver biopsy and other diagnostic and therapeutic procedures.
Fellows will gain expertise in inpatient and outpatient patient care, consultative services and procedural skills. Fellows also participate in subspecialty clinics for hepatology, transplant and bowel rehabilitation, biochemical genetics, as well as adult hepatology and liver transplantation procedures at the University of Washington Medical Center. The fellows prepare and give talks in multiple formats and information settings and lead multi-specialty conferences.
Research
Faculty members of the Divisions of Pediatric Gastroenterology and Hepatology and Pediatric Liver Transplantation are recognized as leading clinicians, researchers and educators in the field of pediatric hepatology and liver transplantation and are currently involved in national and local research studies of pediatric liver transplantation, acute liver failure, biliary atresia, hepatitis B and C treatment, digital health in improving quality of transplant pharmacy teaching, transplant immunology and non-alcoholic fatty liver disease. Fellows in this program will have numerous opportunities for participation in clinical research, translational research, and quality improvement initiatives.
With over $100 million of NIH funding to the University of Washington and the Fred Hutchinson Cancer Research Center, the research opportunities for our trainees are nearly limitless. Within our division we are currently doing clinical research in liver and small bowel transplantation, infectious hepatitis and other hepatopathies, inflammatory bowel disease, pancreatitis and abdominal pain along with basic science research in hepatic metabolism. Collaborative researchers at our affiliate institutions in gastroenterology have active programs in hepatobiliary disease, inflammatory bowel disease, motility disorders, and the immunologic basis of gastrointestinal disease; they also do basic science research in the pathophysiological and biochemical basis of these diseases.
Pediatric Advanced/Transplant Hepatology Fellowship
Prerequisites/post-medical school requirements
Fellows must have graduated from an accredited medical school and have completed a pediatric residency program at an accredited institution. The individual must be board eligible/certified in General Pediatrics, and have completed an ACGME accredited fellowship in Pediatric Gastroenterology by July 1st, 2022.
Applications
We accept applications via ERAS (Fall Application Cycle) We ask for the ERAS Application, a current CV, a personal statement, 3+ LORs, and a recent photo to complete a file.
Applications are available for submission on ERAS beginning July 27, 2022.
Timeline
Application deadline
September 30th, 2022
Interview start and end dates
Interview start and end dates (interviews will be held virtually): September – October, 2022
The UW School of Medicine is committed to building and sustaining a multicultural community that fosters equity, diversity and inclusion. Our objective is to create a community that encourages participation and connection, and that values each individual's unique contribution, regardless of socioeconomic status, race, ethnicity, language, nationality, sex, sexual orientation, gender identity and expression, spiritual practice, geography, mental and physical status and age.
Photo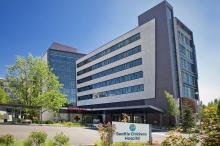 Seattle Children's Hospital is both a community hospital for greater Seattle and the pediatric referral center for the Northwest providing excellent pediatric care to meet the medical, surgical and developmental needs of children in the WWAMI region. Serving as the main clinical training site for pediatric residents, this 407-bed hospital is conveniently located one and one-half miles from the University of Washington campus in an attractive, residential neighborhood of Seattle. The staff consists of University faculty and Seattle Children's full-time physicians.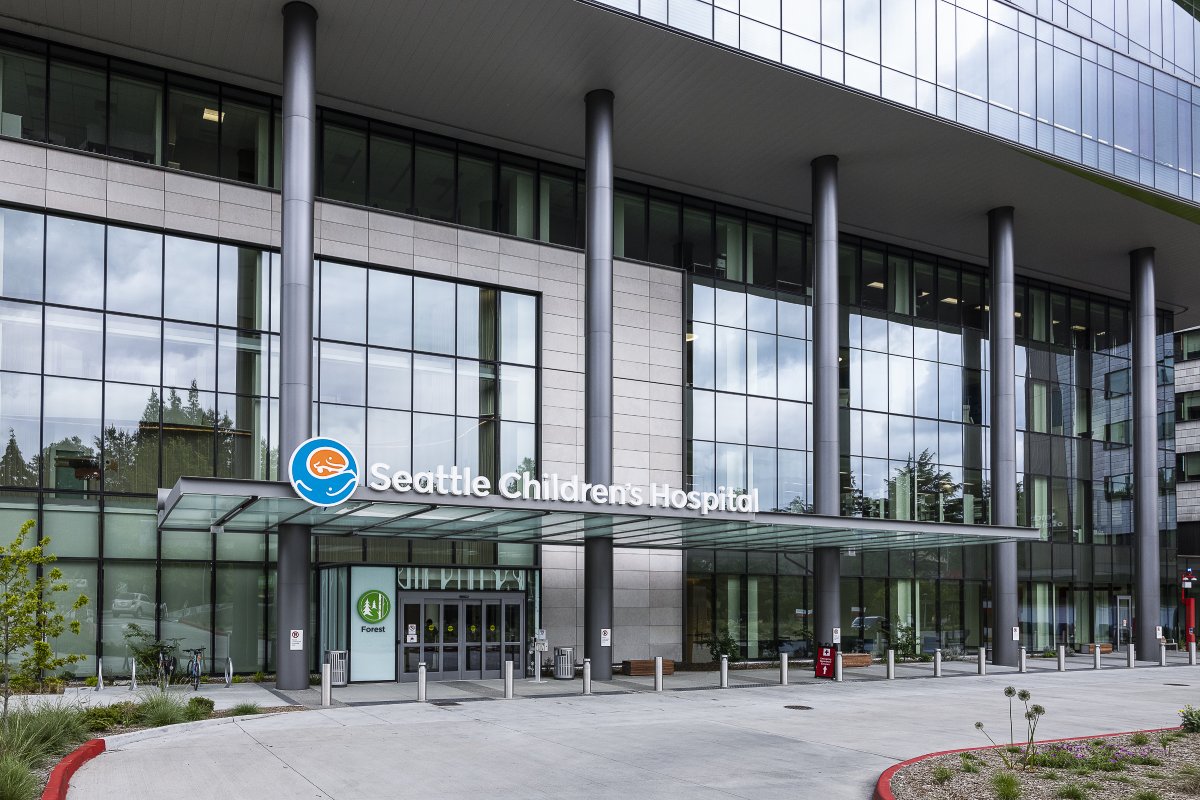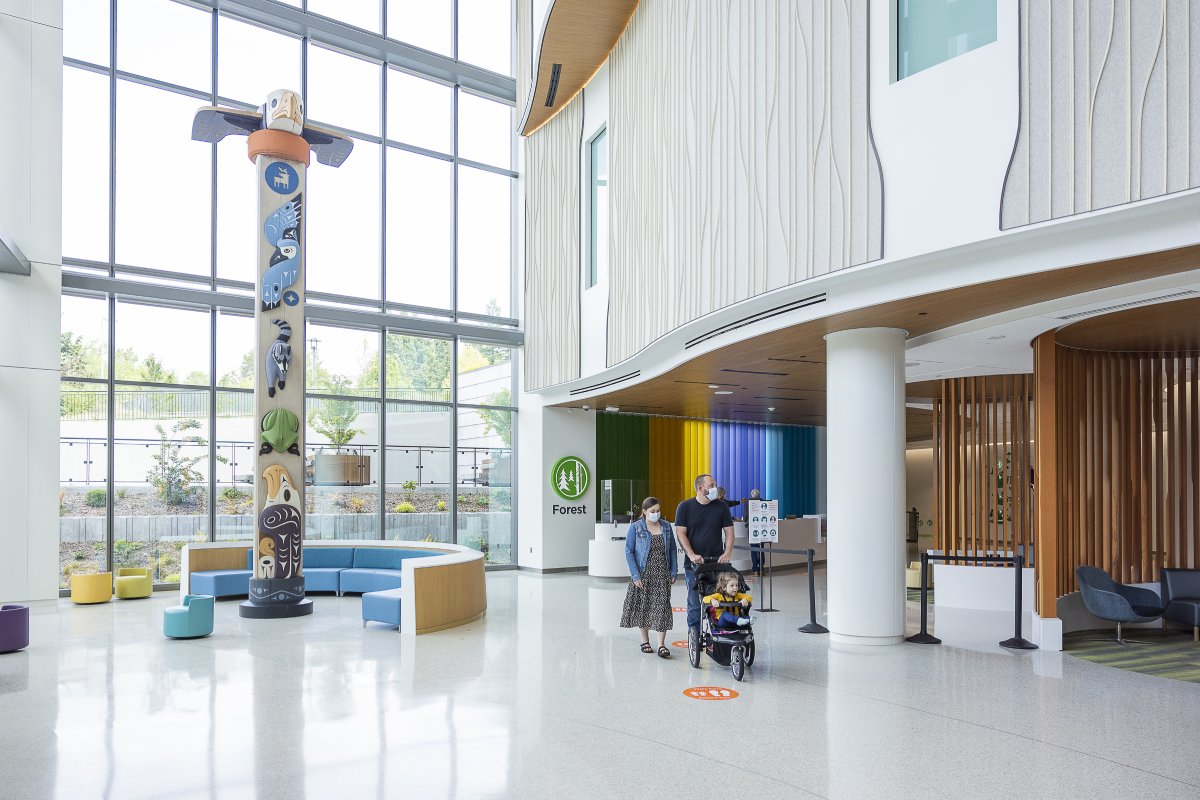 Additional Information: Message from Dr. Walker-Harding; Resident Tour of Seattle Children's Hospital.
University of Washington Medical Center (UWMC - Montlake)
Photo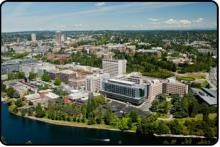 UWMC is a 450-bed teaching and research hospital offering comprehensive care including complete medical, surgical, ob-gyn, and psychiatric services and is rated as one of the top-10 hospitals in the U.S. Patients are referred from the UW Medicine sites and from community practitioners from the WWAMI region. The nearly 400 attending physicians on staff are full-time faculty members of the highly regarded UW School of Medicine.
The University of Washington Department of Medicine, Division of Gastroenterology, serves as an outstanding site for learning key concepts of adult gastroenterology and furthering procedural skills. Our fellows work alongside adult gastroenterology and hepatology providers, fellows of the UW GI fellowship program, and UW medical students. Due to the University's GI programs, the emphasis is on tertiary and quaternary care, and furthering procedural experience.
GI specific educational collaborations between our group at Seattle Children's and the UW GI groups include weekly lectures, GI Grand Rounds, Mortality and Morbidity, Journal Club, and multiple other educational opportunities.
Photo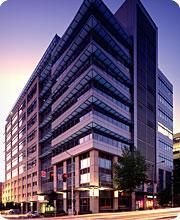 As one of the nation's top five pediatric research centers, Seattle Children's Research Institute is dedicated to making breakthrough discoveries that help prevent, treat and cure childhood disease. SCRI has more than 350 investigators researching hundreds of diseases and disorders, and over $138 million in federal research funding for the 2021 fiscal year. The research institute is organized into nine centers, each one specializing in areas that include immunotherapy, tissue and immune transplantation, outcomes research, clinical and translational research, and child health and behavior. Researchers in the centers work in close collaboration with one another, their colleagues at partner institutions including the University of Washington and Fred Hutchinson Cancer Research Center, and with our health care providers at Seattle Children's Hospital. This collaboration is one of our key strengths, allowing our faculty to draw on a variety of disciplines and techniques as they pursue solutions to some of medicine's most complex problems.
Fellowship Leadership
Hepatology Fellowship Director

Assistant Professor Program Director, Transplant Hepatology Fellowship Director, Fatty Liver Program
Current Fellows
Rachel Smith, MD 2022-2023

Medical School: University of Maryland School of Medicine

Residency in Pediatrics: University of Michigan

Fellowship in Pediatric Gastroenterology: Mount Sinai Medical Center

 

Research Interests: Socioeconomic disparities driving pediatric NAFLD prevalence, nutritional health pre- and post-transplant, and transplant waitlist equity
Alumni
Jessica Hochberg, MD

2021-2022

Pediatric Transplant Hepatologist at Miami Transplant Institute, University of Miami

Katelyn Saarela, DO 

2020-2021

Assistant Professor Seattle Children's Hospital

Amber Hildreth, DO

2018-2019
Assistant Professor Rocky Mountain Hospital, Children's Denver

Voytek Slowik, MD

2017-2018
Assistant Professor at Children's Mercy in Kansas City, MO

Niviann Blondet, MD

2016-2017
Assistant Professor at Seattle Children's Hospital
Fellowship Program Director

Assistant Professor Program Director, Transplant Hepatology Fellowship Director, Fatty Liver Program
Email
Fellowship Program Coordinator

Fellowship Program Coordinator
206.987.1095 (phone)
206.987.2721 (fax)
Seattle Children's
PO Box 5371
M/S: OB 9.620
Seattle, WA 98145-5005
Email