Mission Statement
The mission of the Pediatric Nephrology Training Program is to produce physicians and investigators of exceptional caliber, who will assume leadership roles in the field of academic Pediatric Nephrology.
Program Aims
Produce physician leaders, advancing the field of pediatric nephrology through investigation, education and/or administration.
Train excellent clinicians who are capable of working in multidisciplinary teams that care for children with kidney disease.
Develop young investigators who are competent in the process of scientific inquiry, from study design to data analysis and knowledge dissemination.
Program Overview
Established in 1989, the Pediatric Nephrology Fellowship program benefits from a strong multidisciplinary clinical program that partners a wealth of expertise from specialized nurses (dialysis, transplant and general nephrology), social workers, dietitians and physicians. As the only freestanding children's hospital within a five-state region, we serve children from a large and geographically diverse area, providing our fellows with a breadth of exposure to clinical nephrology.
Our fellowship program is designed to train academic pediatric nephrologists committed to careers with significant teaching and research activities. Each fellow works with the faculty to design an individualized research program in basic science, clinical research or translational investigation. Members of the division engage in basic or clinical research studies and have considerable experience as research supervisors, in addition fellows may select primary research mentors outside the division. As a robust teaching and research institution, the University of Washington School of Medicine (UWSOM) is home to the Kidney Research Institute (KRI), the highly ranked School of Public Health and many other research centers engaged in innovative investigation.
Diversity Statement
We value providing our patients with culturally sensitive care.  We seek applicants that are dedicated to providing this care and encourage applicants from diverse backgrounds to apply. 
The University of Washington has pledged to fight and dismantle systemic racism within our institutions, our policies, and our practice of medicine. We are fortunate to have a number of outstanding resources for these tasks in our community, including the University of Washington Center for Health Equity, Diversity and Inclusion, the Network of Underrepresented Residents and Fellows, the Seattle Children's Center for Diversity and Health Equity, and Dr. Jason Deen, the Department of Pediatrics Associate Vice Chair for Equity, Diversity and Inclusion.

Information and Resources for UW/Seattle Children's Pediatric Nephrology Fellowship Applicants (password protected)
Clinical Year
Fellows typically begin their training with the clinical year. Clinical activities occur under the supervision of division faculty members who serve as inpatient and outpatient attending physicians on a rotating basis. The clinical year experience encompasses all aspects of clinical pediatric nephrology, including all modalities of renal replacement therapy (acute/chronic dialysis and renal transplantation). Inpatient rotations cover the primary nephrology service and the nephrology consult service for the ICUs (PICU/CICU/NICU), wards and emergency department. Outpatient care includes home or in-center chronic dialysis, renal transplant care, percutaneous renal biopsies, telephone consultations from outside providers and a dedicated fellows' clinic. Fellows complete all rotations on site at Seattle Children's Hospital, with opportunities to participate in prenatal consults and regional clinics offsite.
Research Years
The research component of the fellowship program is typically two consecutive years. The University of Washington has many cross-disciplinary and collaborative opportunities for research projects within and outside the division. Starting in the first year, fellows work with faculty to identify a research project and research mentors within the desired area of study. Research opportunities and mentors are available in a wide variety of areas, including basic, translational and clinical research. Coursework may be pursued, depending on the research topic, at the University of Washington School of Public Health.
Each fellow has a Scholarship Oversight Committee, composed of faculty mentors within and outside the division. The SOC meets regularly to provide structure and guidance for research and career planning. Fellows will typically present their work at one of the major national meetings, with travel support provided by the fellowship program.
Research Projects of Current Fellows:
Chloe Douglas, MD
Research Mentors: Jodi Smith, MD, MPH
Dr. Douglas is interested in kidney transplantation. She is investigating the effect of socioeconomic deprivation on access to kidney transplants and graft and patient survival. Her overall goal is to explore both locally and nationally whether children living in communities with greater socioeconomic deprivation have higher incidences of preemptive transplant, rejection, graft failure and death in hopes of improving access to subspecialty care for children with kidney disease
Carolyn Jackson, MD
Research Mentors: Shina Menon, MD ; Jordan Symons, MD
Dr. Jackson is interested in the field of critical care nephrology with a focus on acute kidney injury requiring continuous renal replacement therapies. She is beginning research evaluating factors that impact both short and long term outcomes for children who require these therapies. Dr. Jackson also has a strong interest in medical education and curriculum development for medical students and resident physicians.
Machi Kaneko, MD (2020-2023)
Research Mentors: Dr. Jodie Smith, MD, MPH; Dr. Yu-Harn Ng; Dr Aaron Wightman; Dr. Noel Weiss
Jacob Little, MD (2020-2023)
Research Mentors: Dr. Shina Menon, Dr. Jodi Smith, Dr. Gerry Zimmerman, Dr. Reid Farris
Dr. Little is interested in neonatal and pediatric acute kidney injury, and the overlap between nephrology and critical care medicine. His current research is investigating the association between acute kidney injury and functional outcomes in critically ill patients.
Board certification eligibility upon completion of program, and completion of previous certification eligibility requirements: Sub-board in Pediatric Nephrology
Length of fellowship: 3 years for ABP eligibility
Requirements
Timeline
Application deadline: October 6th
Interview Time Period: Late August — mid October
Match Participation: Fall Match
NRMP Match Day: November 30th
Fellowship start date: July 7th
Interview Process
All interviews will be conducted online for the 2022 interview season.
Photo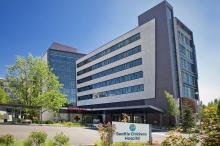 Seattle Children's Hospital is both a community hospital for greater Seattle and the pediatric referral center for the Northwest providing excellent pediatric care to meet the medical, surgical and developmental needs of children in the WWAMI region. Serving as the main clinical training site for pediatric residents, this 407-bed hospital is conveniently located one and one-half miles from the University of Washington campus in an attractive, residential neighborhood of Seattle. The staff consists of University faculty and Seattle Children's full-time physicians.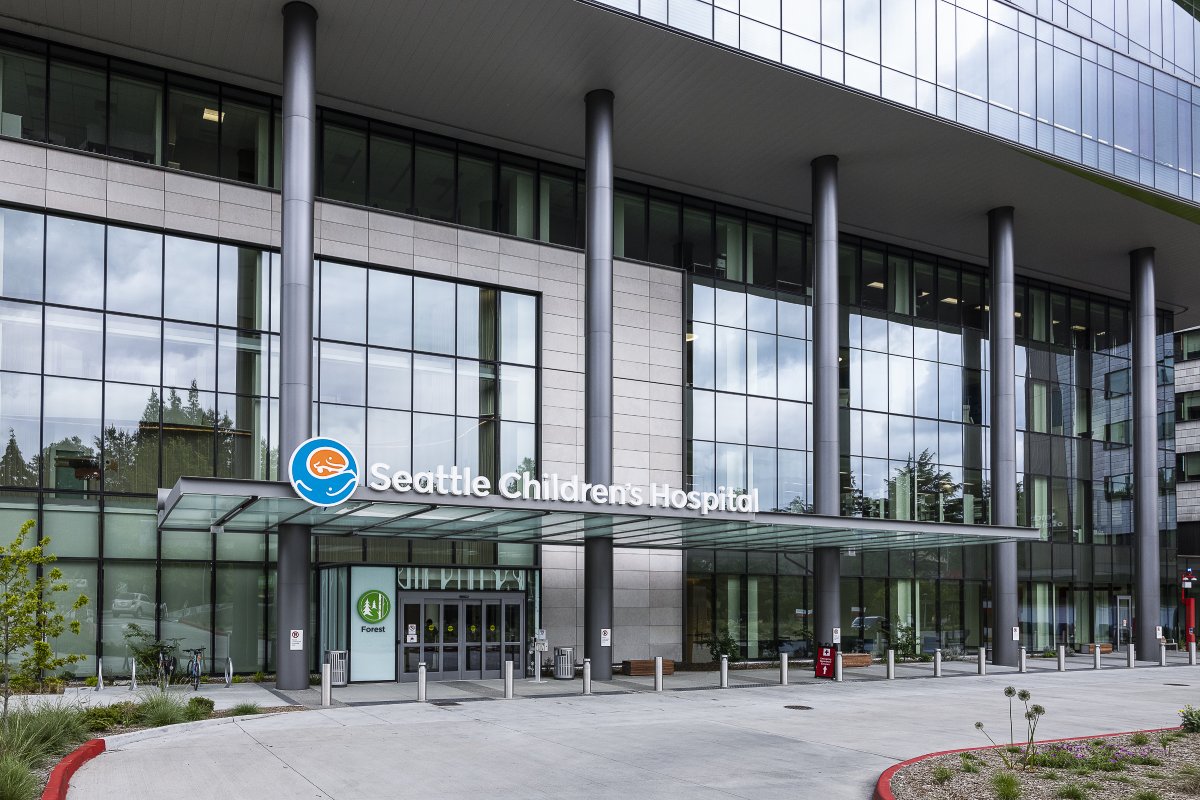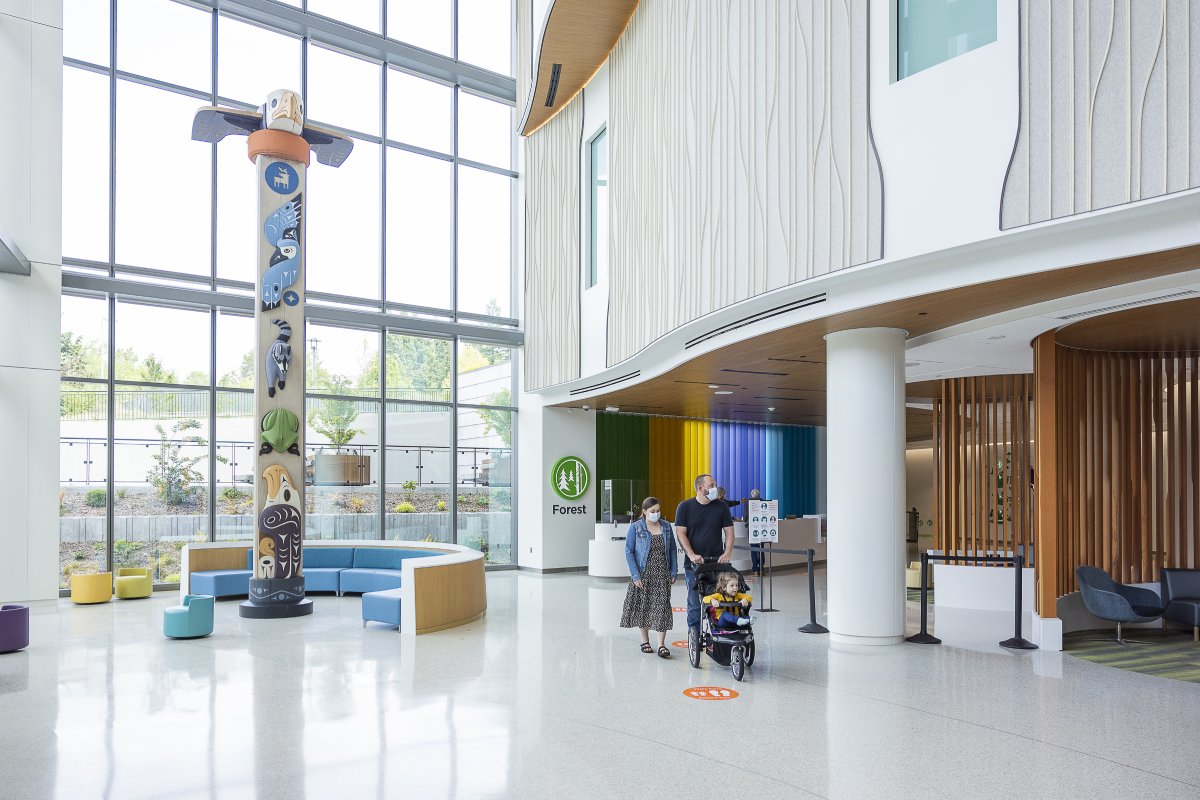 Additional Information: Message from Dr. Walker-Harding; Resident Tour of Seattle Children's Hospital.
Fellowship Leadership
Division Chief

Professor Division Chief
Fellowship Director

Professor
Current Fellows
| | |
| --- | --- |
| | Machi Kaneko, MD (2020-2023) |
| | Jacob Little, MD (2020-2023) |
| | Chloe Douglas, MD (2021-2024) |
| | Caroline Jackson, MD (2021-2024) |
| | Amber Kazi, MD (2022-2025) |
| | Lauren Hawkins, MD (2022-2025) |
Alumni
Taylor House, MD, MPH (2019-2022)
Position after graduation: Assistant Professor, Pediatrics University of Wisconsin
Reya Mokiao, MD, MPH (2019-2022)
Position after graduation: Acting Assistant Professor, Pediatrics, University of Washington,
Elizabeth Yu, MD | MJR, MC, USA (2018-2021)
Position after graduation: Pediatric Nephrology, Madigan Army Medical Center, Tacoma, WA
Alex Kula, MD. MS (2018-2021)
Position after graduation: Assistant Professor, Northwestern University
Elizabeth Nguyen, MD, PhD (2018-2021)
Position after graduation: Acting Assistant Professor, University of Washington
Russ Whelan, MD, PhD (2020-2021)
Position after graduation: Assistant Professor, University of Colorado
Jessica Stahl, MD (2017-2020)
Position after graduation: Assistant Professor, University of North Carolina
Abbie Bauer, MD (2016-19)
Position after graduation: Assistant Professor, University of Texas-Southwestern
Eliza Blanchette, MD (2016-19)
Position after graduation: Assistant Professor, University of Colorado
Michelle Starr, MD (2016-19)
Position after graduation: Assistant Professor, Indiana University SOM
Ranita Patel, MD (2015-18)
Position after graduation: Assistant Professor, University of Texas at Austin
Kelsey Richardson, MD (2014-17)
Position after graduation: Assistant Professor Pediatrics,Oregon Health & Sciences University, Division of Nephrology
Rachel Engen, MD (2014-17)
Position after graduation: Assistant Professor, Pediatrics Northwestern University Feinberg SOM, Lurie Children's Hospital, Division of Nephrology
Sonia Krishnan, MD (2013-16)
Position after graduation: Assistant Professor of Clinical Pediatrics, The University of Illinois COM
Michael Semanik, MD (2013-16)
Position after graduation: Associate Professor, Pediatrics University of Wisconsin, American Family Children's Hospital, Division of Nephrology
Ian Macumber, MD (2012-15)
Position after graduation: Assistant Professor of Clinical Pediatrics, University of So. Cal. Keck School/ of Medicine/ CHLA
Neil Paloian, MD (2012-15)
Position after graduation: Assistant Professor, University of Wisconsin SOM and Public Health / American Family Children's Hospital
Fellowship Director

Professor
206.987.2636 (phone)
Email
Program Coordinator

Fellowship Program Administrator
206.987.1672 (phone)
Email